Three Season Rooms Installation and Maintenance in Madison Heights and the Surrounding Areas
Sun Additions three season rooms – built to exceed your expectations.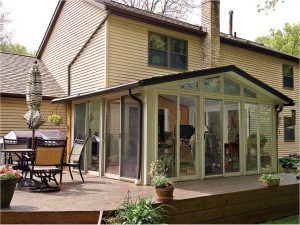 Nothing beats natural sunlight and breathing the fresh air.  Each of our three seasons rooms are custom-manufactured to your home giving you and your family enjoyment from spring to fall.
The proof is in the final product. Contact us at: 248-965-0509 for your FREE In-Home Estimate!
The what and why's of having a three seasons room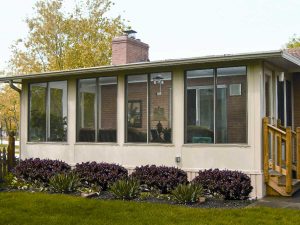 A three season room is a sunroom home addition that is enclosed with glass, aluminum and vinyl – these materials are great at weather resistance. Many three season rooms feature floor-to-ceiling windows and doors. Depending on your area of residence, these rooms can be enjoyed most months of the year. However, these rooms are not engineered to be heated or cooled on a long-term basis.
Expanding your home's square footage with an addition is an exciting way to add living space. Several options exist including screened-in porches, three-season rooms, and all-season rooms. Each type of addition has its advantages and disadvantages. Screened-in porches are great during nice weather but not usable when temperatures drop too low. A three-season room however, works well for homeowners interested in additional square footage and extending their living space for most of the year.
---
Three-season rooms are additions enclosed with glass.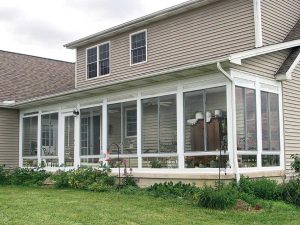 Many rooms feature floor-to-ceiling windows with UV protection to protect both furnishings and occupants from the sun. These additions may start out as anything from a patch of grass in the yard to a patio or porch. They can be enjoyed most months of the year, however because they are not insulated, they can't be efficiently cooled with air conditioning during the hot summer months or heated when temperatures drop in the winter. One benefit to choosing a sunroom over a standard addition is that they are less expensive to build than an all-season room because they don't require heating, insulation, a foundation, or footers. They have various roofing options including adding glass roof panels that allow for extra sunlight. The framing options are endless – so you get to choose the framing option that matches the style of your home.
---
Three-season rooms can be as basic or as extravagant as the you desire.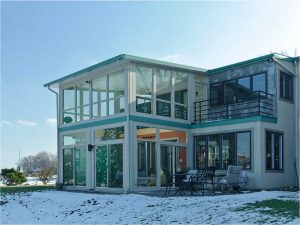 A variety of construction materials are available so the space looks and feels like a true extension of your home. An existing roof, if it's in good shape, can be used for a three season room. Since our rooms are custom-made to fit the design of your choice as well as your home, we provide an addition that fits into your existing space perfectly. However, when a new roof needs to be built, our three season roof options include 3- or 6-inch-thick panels that insulate weather and sound while providing structural integrity. Roofs can be constructed in a sloped or gabled style and glass roof panels can be added for those who want more natural sunlight. We also have a custom wood roof option for homeowners looking for a seamless blend between the new room and the existing structure. So, let's start working on your outdoor living space today and have peace of mind with our warranty!
Warranty Information
We offer lifetime protection on the vinyl components and lifetime protection on glass breakage. It's even transferable to the next owner!  That's warranty protection you can count on.   Contact us for any additional details.
Whatever your home improvement or remodeling project needs are – we've got you covered. Give us a call: 248-965-0509 for your FREE In-Home Estimate now and experience the Martino Difference!