Customized Four Season Rooms in Madison Heights, Michigan
Enjoy the beauty of the outdoors from the comfort of your home with a new four seasons room from Patio Enclosures by Martino Home Improvements!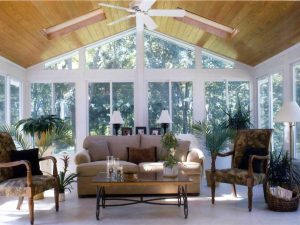 Our four season rooms let you enjoy the outdoors all day, every day, no matter the weather outside. Sometimes referred to as 'all season rooms', they include added security features, sleek door handles, and advanced weatherlock with interlock sashes. The thermal breaks and double-pane insulated glass allow you to heat and cool your room year-round.
Contact us at: 248-417-6987 for your FREE In-Home Estimate or to learn more about how we can improve your home!
The What and Why's of Having a Four Season Room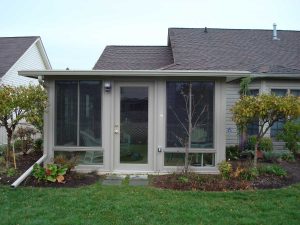 A four seasons room is a sunroom home addition enclosed with glass. This room is engineered and insulated to be temperature controlled year-round, so you and your family can enjoy the room comfortably every day of the year regardless of your climate. They are also called 'all season rooms', depending on where you live. All season and four season rooms typically have floor-to-ceiling windows and doors on three walls to provide you with an unobstructed view of the outdoors.
A four season room is a great solution for adding extra space to your home and allows you to bring all the best elements of the outdoors inside the home. Unlike a three season room, a four season room can be used all year-round. So, to summarize, four season rooms and all season rooms are the same. Four season rooms should be built to withstand both hot and cold temperatures. The most important considerations are the insulation, type of glass used, and whether-or-not to extend your HVAC system to warm and cool the space.
As a Focal Point of any Four Seasons Room, the Windows are One of the Most Important Components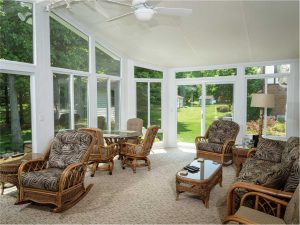 Installing high-performance, energy-efficient windows makes a four season room beautiful and comfortable during any season of the year. By using insulated glass products, you can expect lower electricity costs.
With four season rooms – you will be comfortable inside no matter what the weather is like outside with our climate-controlled features. Our energy-efficient glass makes the most out of your heating and cooling systems, saving you money.
We know that as a homeowner, you want to make the best investments when it comes to home remodeling and improvement projects – give us a chance to show you what we've got. Trust our highly trained team for your sunroom installations and maintenance – see what people are talking about today. We guarantee you won't be disappointed.
Warranty Information
We offer lifetime protection on the vinyl components and lifetime protection on glass breakage. It's even transferable to the next owner!  That's warranty protection you can count on.   Contact us for any additional details.
Whatever your home improvement or remodeling project needs are – we've got you covered. Give us a call: 248-417-6987 for your FREE In-Home Estimate now and experience the Martino Difference!